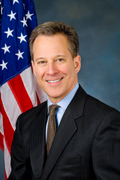 Since becoming New York's Attorney General in 2011, I have made it a top priority of my administration to hold accountable those whose misconduct led to the collapse of the housing market--and to provide significant relief to homeowners who are struggling to get by.
If you are visiting this site, you, or someone you may know, may be behind in mortgage payments and at risk of losing a home. I'm aware how difficult and stressful this difficult situation may be. But there's help—and it's free.
The Attorney General's Homeowner Protection Program (HOPP) can help you save your home. Alongside our partners in the community, we are working with homeowners to help understand their finances, connect them to free legal services, and even speak to the bank on their behalf. All this help is available in many languages, and it doesn't cost money.
Just call 855-HOME-456 and ask to speak to a "foreclosure prevention specialist." An operator will connect you to an expert who can help. But it is important that you call now. Waiting can cause even greater problems, and getting help sooner means you have a better chance of keeping your home. So call 855-HOME-456 now, any time of the day or night.
I want to do everything I can to help New Yorkers keep their home. I hope you will take advantage of these services by calling 855-HOME-456 today.
Sincerely,

Eric Schneiderman